AHEPA Bay State District 8 - Massachusetts
What makes AHEPA unique from other organizations is the creation of the AHEPA Family. Together with three affiliated organizations, the AHEPA Family works as a unit toward the fulfillment of a common mission. Combined, the four organizations have contributed well over a billion dollars to national projects throughout their history.

---
---
News from Bay State District 8, Worcester, MA
AHEPA.....American Hellenic Progressive Association.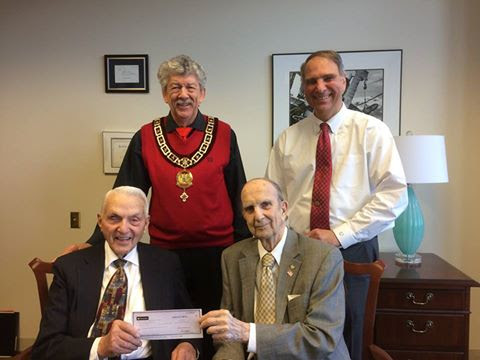 Two weeks later after this picture Manny gave another $90,000 + 65,000 and some money he had already in account making the total to $180,000. It will be called the Emanual James Pappas Scholarship.
SCHOLARSHIP DONATION - 🎓 Emanuel James Pappas 93 presents check of $65,000 for the Ahepa Bay State District # 8 Scholarship Program. Seated is Brother Emanuel J. Pappas showing check next to Peter G. Leasca, Past Supreme Governor, standing is Dalton Respass, District Governor, PSG and George P. Leasca, Vice President Morgan Stanley. The Ahepa District grants over 20 scholarships each year to students. Mr. Pappas and Mr. Peter Leasca have both been members of The Order Of AHEPA for 67 years. Dalton Respass has been active in Ahepa programs along with Ahepa past Athletic Director George Leasca. At one time we had 22 Massachusetts chapters.
Emanuel who is from Webster also has another scholarship fund from about 16 years ago or so.
He is one of 9 brothers from Webster. About 6 of the Pappas brothers were in WW I I. His mother was a volunteer Ambulance driver helping during WW II, plus making bandages for the war effort. She was also a founder of the Southbridge St. George Greek Orthodox Church.
Manny as we know him has one good eye is a professional tennis player. He still plays tennis at his age.
Note: Over the years we had numerous recipients from Worcester.
Peter L. Bell, a Past Supreme President donated $255,000 to the District Scholarship.
The District Scholarship was founded around 1949.
Good reason to join the AHEPA and enjoy some of the benefits.
---
AHEPA Journey to Greece
Summer of 2018, study at a fully accredited US University in Greece; learn about modern and ancient Greece. Leave your myth in Greece; see and experience the beauty of the country and its people and earn transferable University credits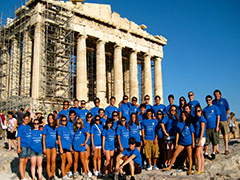 For more information please visit the National AHEPA website
---